Italian painter Bernardo Strozzi died in Venice on this day in 1644. Known by his nicknames Il Cappucino and Il Prete Genovese (he joined the Capuchin order at S Barnaba, Genoa in 1598), Strozzi was a key figure in the development of Baroque art in Genoa and Venice. After receiving permission to leave his monastery in 1610 to support his mother and sister through his art, Strozzi found success with religious works, genre scenes, portraits, and frescoes admired for rich color and dynamic brushwork.
St Cecilia, 1620-25, oil on canvas, Nelson-Atkins Museum of Art, Kansas City
Saint Veronica, c. 1620-5, oil on canvas, Museo del Prado, Madrid
Allegory of the Arts, c. 1640, oil on canvas, The Hermitage, St. Petersburg
Reference: Chiara Krawietz. "Strozzi, Bernardo." Grove Art Online. Oxford Art Online. Oxford University Press. Web. .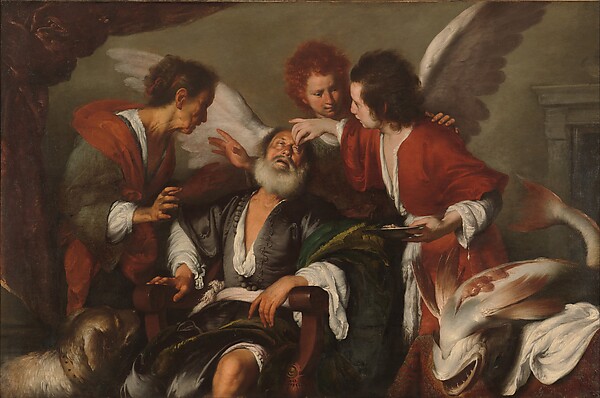 Tobias Curing his Father's Blindness, 1630-5, oil on canvas. New York: The Metropolitan Museum of Art, Purchase, Mary Wetmore Shively Bequest, in memory of her husband, Henry L. Shively, M.D., 1957