On this day in 1844, artist Hermann David Solomon Corrodi was born in Frascati, near Rome. Son of the Swiss painter Salomon Corrodi (d. 1892), Hermann studied first with his father and later at the Accademia di San Luca in Rome as well as in Paris in 1872. He maintained a studio in Rome, where he died in 1905. A noted history painter, Corrodi travelled widely and appealed to an international audience who appreciated his naturalism and exotic subjects. His patrons included members of the British royal family, and he made numerous etchings and landscapes as well as his history paintings.
Reference: Christina Steinhoff and William Hauptman. "Corrodi." Grove Art Online. Oxford Art Online. Oxford University Press. <http://www.oxfordartonline.com/subscriber/article/grove/art/T019625>.
Photographic portrait of the artist, late 19th century (above)
The Galata Bridge and the Yeni Valide Djami, Constantinople, 1880s, oil on canvas,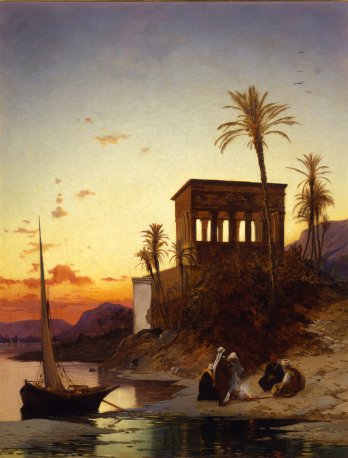 Campfire by the River: The Kiosk of Trajan at Philae, oil on canvas. New York: The Dahesh Museum of Art, 1995.20.