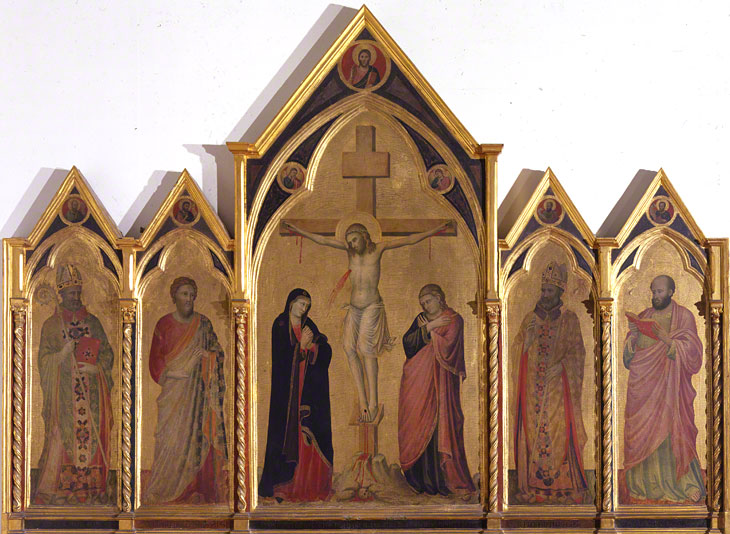 Polyptych with the Crucifixion and Saints Nicholas, Bartholomew, Florentius, and Luke, about 1315–20. Tempera on panel, Galleria dell'Accademia, Florence, 1890 n. 8568.
Pacino di Bonaguida worked as a painter and illuminator in the first half of the fourteenth century. His only secure work is an altarpiece made for the Florentine church of San Firenze, which he signed sometime between 1310 and 1319. Art historians have added works to his oevre based on this painting, including an illumination from a laudario (a book of sung prayers) showing the Martyrdom of St. Lawrence featured by the Getty in a recent blogpost.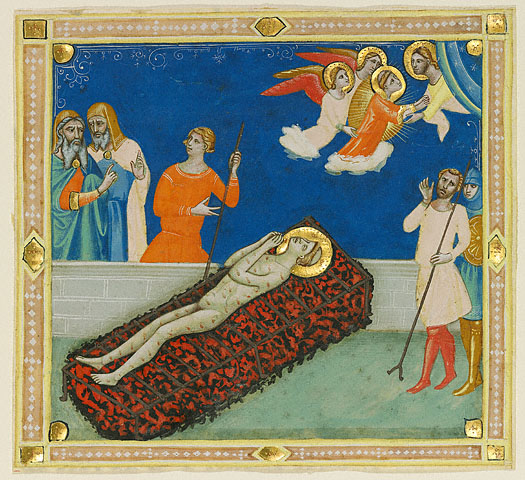 Martyrdom of St. Lawrence, ca. 1340, tempera and gold leaf on parchment, Los Angeles, The Getty Museum, MS. 80B, VERSO
Everybody seems pretty nonchalant for seeing Saint Lawrence enduring torture on a flaming grill. But don't worry, this bright and detailed illumination depicts God welcoming his soul into heaven with open arms.

The Martyrdom of Saint Lawrence, about 1340, Pacino di Bonaguida. J. Paul Getty Museum.